FIND YOUR NEXT STUDY EXPERIENCE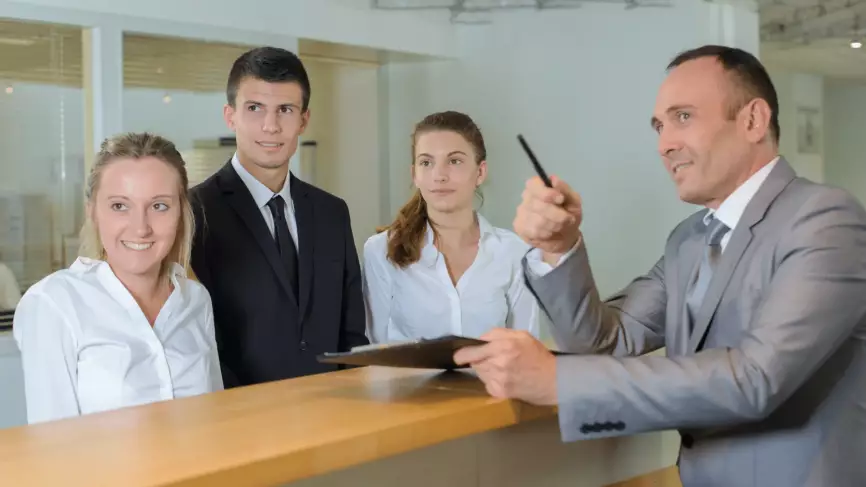 Australia is the home to millions of tourists, students, and job seekers. After the USA and the UK, most students consider Australia a country with degrees that hold value. Australia has also offered top-notch hotel management services with all this travel and exposure. Hence, the quality of hotel management courses that are a teacher in Australian universities has grown in popularity.
With access to dozens of universities online offering hotel management courses and diplomas at varied rates, you can go and study hotel management and find healthy job opportunities.
Suppose you have a knack for hotel management and are looking to craft management skills. In that case, you can enlist in one of the top Australian universities offering Hotel Management programs.
This article will cover everything related to Hotel management courses in Australia, such as eligibility criteria, the application process, scholarships, and jobs while highlighting the top hotel management universities in Australia.
Why Study Hotel Management in Australia?
For many years, Australia has been one of the leading countries working hard to establish and present its hospitality and tourism sector. With intelligent navigation on the internet, tourists can quickly browse through applications and websites to find hotels and tourism points.
But it's not just the hard work put into the hospitality and tourism sector; the country is naturally gifted with beaches, mountains, and exotic animals to discover at every turn.
With a history in hotel management affairs, Australia offers students the opportunity to take part in their hotel management Bachelor's and Master's programs. Their degrees are recognized and appreciated around the world for obvious reasons. Australian universities and colleges offer students hotel management diplomas, undergraduate and postgraduate programs.
And once you are done with the program, you can apply for the thousands of new job opportunities in this exotic land.
Eligibility Criteria to Study Hotel Management in Australia
Here is a list of some major Australian universities and their eligibility criteria for a hotel management degree.
| | | |
| --- | --- | --- |
| University | Academic Requirement | Minimum IELTS Score Required |
| | Bachelor's degree or Postgraduate certificate/diploma with three years of managerial experience, Over 21 years of age | 6.0 |
| | Minimum GPA of 4.0 in Bachelor's Degree | 6.5 |
| Blue Mountains International Hotel Management School | Bachelor's degree or Postgraduate certificate/diploma with three years of managerial experience, Over 21 years of age | 6.0 |
| | Minimum GPA of 4.0 on a scale of 7.0 | 6.5 |
| The Hotel School | Bachelor's Degree | 6.5 |
| International College of Hotel Management | Bachelor's degree or Graduate Certificate/Diploma | 6.0 |
| | Bachelor's degree in an event, hospitality, hotel or tourism; Minimum GPA of 4.5 | 6.5 |
The Application Process to Study Hotel Management
The application process for Hotel Management is slightly different with different universities, although some general requirements are the same. Admission for Master's programs in Hotel Management begins in February, June, and November.
Students with Bachelor's degrees should mark their calendars after checking the actual date of the respective universities on their websites. Students can submit their applications online on the website of the hotel management university that they have chosen.
And of course, there are some additional documents that the universities require along with the application. Double-check it on the website as well. The documents needed for hotel management universities are as follows,
Providing the results of your past academics, including your undergraduate degree.
Non-English transcripts and documents should be delivered in English translation.
Your IELTS scores. If not, any other proof equivalent to IELTS shows your English proficiency level.
List of Top Hotel Management Universities in Australia
Another reason for the massive popularity of a Hotel Management degree in Australia is the sheer variety of disciplines in hospitality and management that the top universities offer. It surely attracts millions of students from around the globe.
And the universities that have these courses are specialised institutes that train these students, help them understand the professionalism and every little detail of the industry. By the time students finish their courses, they are ready to operate in the field.
Some universities that provide Hotel Management degrees and graduate programs are listed below.
| | |
| --- | --- |
| S.N | University |
| 1 | |
| 2 | |
| 3 | |
| 4 | The Hotel School, Sydney & Melbourne |
| 5 | |
| 6 | |
| 7 | Kaplan Business School |
| 8 | |
| 9 | |
| 10 | The Blue Mountains International Hotel Management School |
| 11 | |
| 12 | |
| 13 | |
| 14 | William Blue College at Hospitality Management |
| 15 | William Angliss Institute |
| 16 | International College of Hotel Management |
Hotel Management Course Fees in Australia
You can find tons of different courses related to the hotel management field in Australia. The hotel management course in Australia varies in the form of a diploma, certificates, and degree programs.
The fee of these programs differs as well. You will find multiple universities offering the same course but different fee structures. So it's up to you to select which university is ideal for you. We have developed a list of the general fee structure for various courses. You can find the accurate fee structure on the official university website.
| | |
| --- | --- |
| Courses Offered | Fees In AUD |
| Masters in International Hotel Management | $46,200 |
| Masters of International Tourism and Hotel Management | $52,800 |
| Masters in International Hotel Management (Swiss Hotel Associates) | $46,380 |
| Masters of Tourism, Hotel and Event Management | $84,544 |
| Masters in International Tourism and Hospitality Management | $63,000 |
| Diploma of Hospitality Management | $31,500 |
| Bachelor of Tourism and Events | $29,500 |
Scholarships in Australia for Hotel Management Courses
Several Australian universities offer scholarships for students who cannot manage their expenses.
This is another benefit these universities provide their students. However, not every university offers it. And there are different types of scholarships; here are a few popular scholarships provided by universities.
Torrens University
Here to Educate A scholarship for international students that help them reduce their total fees up to 20%.
Scholarship for Three Pillars Blue Mountains International Hotel Management: Another scholar for international students. The difference is that this one reduces the fee by up to 30%.
Griffith University Remarkable Scholarship
This scholarship is limited to only undergraduate and postgraduate programs. To get this scholarship, students should have marvellous marks in their academic years.
The University of Queensland
Neil Brice Memorial Fund: If you are struggling to meet the fee requirement from the university, you can ask for this memorial fund. A student unable to pay their dues can get up to 1000 AUD as a scholarship.
Fortunately, everyone, national or international, can get this reward.
Alfred and Olivia Wayne Memorial Scholarship: If you have an extraordinary academic record but cannot keep up with the course fee, this scholarship awards students up to 3000 AUD and can help support your requirements.
Southern Cross University
International Advancement Scholarship: Students will receive scholarships based on their excellent academic records. The scholarship amount is 8000 AUD for the undergraduate and postgraduate programs.
Coffs Coast International Women's Day Female Postgraduate Scholarship: This scholarship is limited to female students in the postgraduate program. The reward is 2500 AUD.
Government Funded Scholarships
The Australian government powers two more scholarship awards. You should check them out as well.
Australian Awards
Destination Australian Program
Jobs & Salary for Hotel Management courses
Having a Bachelor's or Master's degree in hotel management can create thousands of job opportunities for the candidate. Different designations have other packages. Some of the known jobs for hotel management graduates are
Hotel Manager,
Event Manager
Chef
Catering Manager,
Accommodation Manager,
Sales Manager
Duty Manager.
There is a lot of diversity in these positions. One job can provide you with a healthy income stream, and the other might fulfil your dream of working in different countries around the world.
Before applying for a job, we advise you to choose your profession wisely. Understand the qualities each designation possesses and compare that with yourself. E.g. a Hotel Manager needs to have qualities like good communication skills, teamwork, personality, and problem-solving abilities. If you have such skills, then you should go for it.
Future Scope of Hotel Management courses.
The future scope of hotel management is enormous globally. The hospitality industry is overgrowing, with new hotels opening up worldwide in large and small cities. This growth has increased the demand for trained professionals worldwide, so it is an excellent time to pursue a hotel management course. In addition to the benefits of such a degree, hotel management professionals can enter virtually any major job field.
More students are pursuing a career in the industry now. The demand for qualified and experienced managers is more significant than ever. To succeed in this career field, students need to have the right skills, training, and knowledge. In addition to theoretical education, they must also have practical experience dealing with clients.