AECC Global - Student Services
Need Advice Studying Abroad?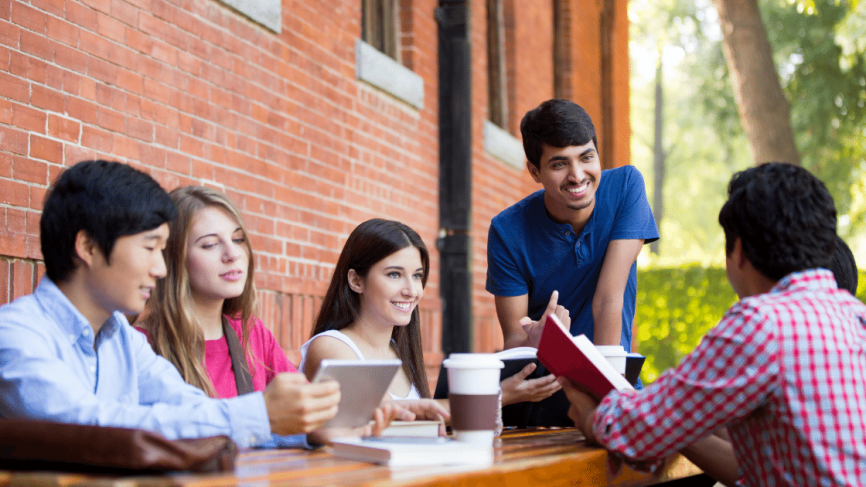 Studying abroad opens a broader horizon of exciting opportunities, and having the right guidance will certainly help you make informed decisions. At AECC Global, we constantly work towards making your study abroad journey as seamless as possible.
Every year, we help thousands of students pursue their study abroad dreams. We strongly believe that with the right guidance, they're sure to get started on the right path.
In the times that we live in right now, the education industry has diverged, and the idea of studying abroad has taken an interestingly unique turn. From choosing the right course to picking a suitable study destination, to starting an online course, students now have alternative encouraging options that cater to their future needs.
At AECC Global, we prioritise those very needs, and ensure that we provide our students with nothing but the best, come what may. Over the years, we have transformed into an organization that provides international quality services that truly meets the diverse needs of our students and partners globally.
Look no further, we'll provide you with the right guidance!
Contemplating studying abroad and not sure how to proceed further? We are here exactly for that!
Our highly specialised team of professional and experienced counsellors are committed to guiding the way forward for students like you, who aspire to pursue their education in some of the most desirable study destinations in the world. If you're unsure about how you can get started and require expert advice, speaking with us will give you more clarity of thought before you plan ahead.
Our qualified education counsellors would love to hear your story!
What's more? They can help you develop a comprehensive learning plan to get you where you want to go. In fact, our exclusive relationships with migration agents and institutions will certainly help you take the first step.
Keen on knowing what this interaction involves?
Speak one-on-one with our education counsellors

Gain guidance from our counsellors' own international-student experience

Get your visas organized by our in-house team of visa documentation experts
Here is what we do to help you:
Step 1: Listen to you
Step 2: Work out the details
Step 3: Address your concerns
Step 4: Handle the application process from beginning to end
Overseas Student Health Cover
Australia, being one of the globally top destinations to study at, is sought after by many international students. One of the main requirements for studying in this country is the Overseas Student Health Cover (OSHC).
The OSHC is an insurance that international students are required to have in order to meet any unforeseen medical expenditure. Furthermore, this is a condition that has to be met in order to obtain your Student Visa in Australia.
But, what are the steps to be taken to obtain this?
That's exactly what we will guide you through with so that you will be relieved and enjoy your study abroad experience in Australia.
Planning your Accommodation
One of the more important questions students face, sometimes even before settling into which course to pursue, is "where will I stay?".
There are different types of accommodation ranging from the university's very own to a shared PG room. We will take you through the safety protocols, accommodation costs, the surrounding environment and the city life.
All you have to do is:
Tell us your preferences

Learn about your preferred destination's society and culture

Match your price with what's offered
Enhance your chance of getting into your favourite university
It is no surprise that more than a hundred thousand students apply to study abroad. That's the amount of competition each student faces. So, how exactly can you stand out from the crowd?
The key lies in choosing the right course at an institution of your choice and building a strong profile along with a compelling application. Our overseas experts prevent you from getting lost in a sea of applications by helping you guide through each step of the overseas admission process.
Here's what we do to help you get there!
Evaluate your academic performance

Review your involvement in extracurricular activities

Review your English language skills

Strategize your application in order to ensure maximum success
On receiving an admission letter from the institution, we will guide you on the steps to be taken, depending on whether you receive either:

Provisional Offer

Conditional Offer

Unconditional Offer


Financial aid through Scholarships
Scholarships can make a lot of difference and can be a complete game-changer for those looking for financial aid while studying abroad. Acknowledging the educational expenses incurred by international students, many institutions provide scholarships to honour your commitment to your studies.
Depending on the course and university, we provide services for the following destinations:
The United States of America

The United Kingdom

Australia

Canada

New Zealand
Availing scholarships make your study abroad experience financially rewarding. You could even save thousands of dollars on your tuition fees!
At AECC Global, we will take you through all the scholarships available and help you choose the right one(s).
Ensuring a Seamless Visa Application Process
Usually perceived as a daunting process, we at AECC Global make it easy for you to apply and go through the whole process of your visa application.
Our team has a thorough understanding of the latest international visa laws and manages hundreds of visa cases every year with exceptionally high visa grants. So, no matter your background or position, we'll work with you to achieve the highest chance of success.
We'll handle everything for you.

Studying abroad opens a broader horizon of possibilities and opportunities and having the right perspective will help you make informed decisions.

At AECC Global, we work towards providing constant support through every step of the way, to make your study abroad journey as seamless as possible. We're driven to enable students like you across the world to explore international education opportunities that will help you acquire the best skills to become global citizens.
Just tell us what you need, and you can rest assured knowing that we'll help you secure your future.