FIND YOUR NEXT STUDY EXPERIENCE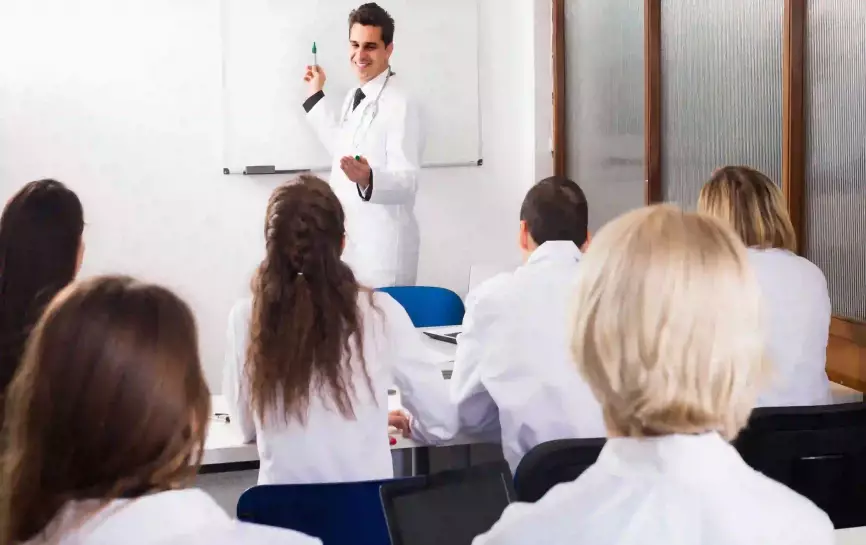 The health industry is one of the most important industries, and it has a significant impact on the quality of life of citizens. Aside from physicians, there is a strong demand for paramedics, who have pursued paramedical courses. This course is essential to any medical profession. Paramedics provide crucial emergency medical services that can save lives.
Paramedics, also known as "emergency health services" personnel, work in close cooperation with physicians to provide medical assistance in critical situations. After completing a high school diploma or equivalent, people interested in a career as a paramedic should consider pursuing courses in biology. This blog is on the list of paramedical courses to help you study in some of the best universities for paramedical courses!
Top 10 Paramedical Courses
Some of the TOP 10 Paramedical Courses List that must know about:
| | |
| --- | --- |
| S.N | Courses |
| 1 | B.Sc in Nursing |
| 2 | Diploma in Nursing Care Assistant |
| 3 | M.Sc in Community Health Nursing |
| 4 | M.Sc in Obstetrics & Gynecology Nursing |
| 5 | M.Sc in Psychiatric Nursing |
| 6 | M.Sc in Health Nursing |
| 7 | M.Sc in Pediatric Nursing |
| 8 | MD in Pathology |
| 9 | MD in Anaesthesia |
| 10 | MD in Radiodiagnosis |
Different Types Of Paramedical Courses
Some of the paramedical courses list that you can study including:
Certificate Paramedical Courses

Diploma Paramedical Courses

Bachelor Paramedical Courses

Masters Courses
List of Top Diploma Paramedical Courses
Here is the list of Diploma Paramedical Courses list for international students:
Diploma in Gynaecology and Obstetrics

Diploma in Child Health

Diploma in Rural Health Care

Diploma in Community Health Care

Diploma in Orthopaedics

Diploma in Ophthalmology

Diploma in Optometry

Diploma in Dermatology

Diploma in Clinical Research

Diploma in Dermatology, Venereology and Leprosy

Diploma in Medical Record Technology

Diploma in Medical Imaging Technology

Diploma in Medical Lab Technology

Diploma in Hearing Language and Speech

Diploma in Operation Theatre Technology

Diploma in OT Technician
Best Universities Abroad for Paramedical Courses
A number of medical schools and institutions offer paramedical courses, but it is important to select one that is well-known in the profession. Some of the top names on the list of recognized academic institutions for studying paramedical courses overseas are listed below:
| | |
| --- | --- |
| S. N | University |
| 1 | Auckland University of Technology |
| 2 | TAFE Queensland |
| 3 | University of Southampton |
| 4 | University of Pennsylvania |
| 5 | Monash University |
| 6 | Flinders University |
| 7 | University of Hertfordshire |
| 8 | University College Dublin |
| 9 | Cardiff University |
| 10 | Edith Cowan University |
| 11 | University of Leicester |
| 12 | University of Delaware |
| 13 | University of Nottingham |
Paramedical Courses: Eligibility Criteria
The qualifying requirements for pursuing a program in Paramedical courses may vary depending on the program you choose. Programs at different universities may have different requirements, which is why it is important to research your options before making any decisions.
However, the following are some of the general requirements:
To pursue undergraduate studies, you must have completed high school, from any recognised board, with the minimum grades required by your chosen university.

To be eligible to apply for a master's degree, you must have finished your bachelor's degree in a specific field of study in the Science stream.

A master's degree is required for doctorate-level courses or for courses that lead to professional certification. Work and research experience may also be requested.
To become a paramedic overseas, you must submit English proficiency test scores from IELTS, TOEFL, PTE, or Cambridge Board. However, to be eligible for a position in a paramedic program abroad, you will also need to submit a Statement of Purpose (SOP) and Letters of Recommendation (LORs).
Top Career After Paramedical Courses
Candidates for diploma paramedical courses must have at least a high school diploma from a recognized institution. Each paramedical college that offers diploma paramedical courses has different minimum percentage requirements, but most often applicants need to have passed their 12th grade with at least 55% marks in Physics, Chemistry, Biology, and English.

Some courses may require additional academic qualifications like successfully completing 12th grade with 65% marks in Physics, Chemistry, Biology, and English. Applicants who do not meet the required qualifications can still be accepted into some diploma paramedical courses provided they pass an entrance exam.

Applicants who complete the fundamental course in one of the paramedical streams can work in Nursing Homes, Hospitals, Clinics, and Health Departments, as well as colleges and universities and as lecturers. They also have the option of opening their own laboratories or clinics. As a result, there are numerous work opportunities in paramedical disciplines.
Best Paramedical Courses With High Salary
| | |
| --- | --- |
| Job | Salary for International Standards |
| Radiologist | USD 97000 |
| Occupational Therapist | USD 75,362 |
| Physiotherapist | USD 62,802 |
| Nurse | USD 6,908 |
List Of Paramedical Courses After 10th (high school)
Students in paramedical studies are prepared to work as allied health workers in the fields of nursing, medicine, and pharmacy. This personnel deserves a lot of credit for their contributions to the smooth operation of healthcare systems. One important point to remember is that students who have completed such courses are in high demand all around the world.
Here are some of the paramedical courses list available after the tenth grade:
X-ray Radiology Assistant

Medical Laboratory Assistant

ECG Assistant

Dental Assistant

CT Scan Technician

MRI Technician

Nursing Care Assistant

Operation Theatre Assistant

General Duty Assistant

Home-based Health care
| | | |
| --- | --- | --- |
| SN | Paramedical Courses | Duration |
| 1 | Diploma in Ayurvedic Nursing | 1 year |
| 2 | Diploma in Medical Record Technology | 2 years |
| 3 | Diploma in Nursing Care Assistant | 1 – 2 years |
| 4 | Diploma in X-Ray Technology | 2 years |
| 5 | MRI Technician (Certificate) | 3 months to 1 year |
| 6 | Certificate in Home Based Health Care | 6 months to 2 years |
| 7 | Diploma in Dialysis Techniques | 2 years |
| 8 | Diploma in Rural Health Care | 1 year |
| 9 | Home Health Aide (HHA) | 4 months |
Top Paramedical Courses After 12th (higher secondary)
After reading this text, you may be wondering whether or not a career in the paramedical industry is for you. The paramedical industry is predicted to reach USD 372 billion by 2022, making it one of the most lucrative and growing industries across the globe
Because the healthcare industry promising, choosing a paramedical course after 12th grade is a solid academic choice.
| | | |
| --- | --- | --- |
| SN | Paramedical Courses | Duration |
| 1 | BSc Radiology | 3 years |
| 2 | BSc in Audiology and Speech Therapy | 3 years |
| 3 | Bachelor of Physiotherapy | 3 - 5 years |
| 4 | BSc Ophthalmic Technology | 3 years |
| 5 | Bachelor/BSc in OTT (Operation Theater Technology) | 3 - 5 years |
| 6 | B.Sc (Respiratory Therapy Technology) | 3 years |
| 7 | B.Sc in Dialysis Therapy | 3 years |
| 8 | BSc Nursing | 4 years |
| 9 | BNYS Course (Bachelor of Naturopathy and Yogic Sciences) | 5 years |
| 10 | Diploma in Physiotherapy | 2 years |
List of Top Paramedical Courses After Graduation
Here is a list of some of the most sought-after paramedical courses list after graduation for international students:
PG Diploma in Cardiac Pulmonary Perfusion

PG Diploma in Anesthesiology

PG Diploma in Child Health

PG Diploma in Medical Radio-Diagnosis

Master of Paramedic Science

Master of Paramedic Practitioner

Master in Physiotherapy

MS/MSc in Community Health Nursing

MS/MSc in Medical Lab Technology

MS/MSc in Obstetrics and Gynecology Nursing

MS/MSc in Pediatric Nursing

MS/MSc in Child Health Nursing

MS/MSc in Psychiatric Nursing

MD in Pathology

MD in Anaesthesia

MD in Radiodiagnosis

PhD in Paramedical Science

PhD (Integrated) in Paramedical Science