FIND YOUR NEXT STUDY EXPERIENCE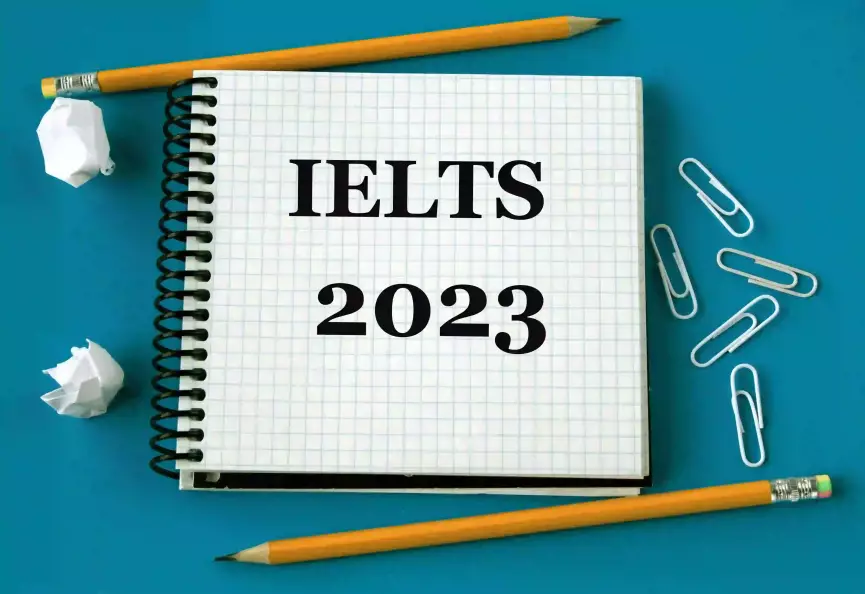 IELTS Exam Syllabus and Pattern 2023
If you are a student aspiring to pursue your higher education abroad in an English-speaking country, it is mandatory to show proof of your English proficiency. For this, you need to score well on your IELTS exam. A good understanding of the IELTS exam pattern and syllabus will help you prepare effectively for each test section and get you the desired scores. Continue reading to get detailed information on the IELTS exam pattern, the different question formats, test types and the IELTS syllabus.

IELTS Exam Pattern 2023 - IELTS Syllabus
The IELTS exam lasts for 2 hours and 45 minutes. The four sections of the IELTS exam are given below:
| | |
| --- | --- |
| IELTS Exam Pattern | Time |
| IELTS Listening | 30 minutes and 10 minutes transfer time |
| IELTS Reading | 60 minutes |
| IELTS Writing | 60 minutes |
| IELTS Speaking | 11 to 14 minutes |
IELTS Exam Syllabus and Pattern
IELTS Syllabus - IELTS Listening
the IELTS listening section aims to evaluate your ability to comprehend the main ideas, specific factual information, the viewpoints and attitudes of speakers and such. Examiners will look for evidence of your potential to understand and follow the evolution of ideas. After listening to four recordings of fluent English speakers, you will be asked to answer a series of questions in writing.
IELTS Exam Pattern (Listening)

Description

Recording 1

A conversation between two people that

takes place in a regular social context

Recording 2

A monologue that takes place in a typical social setting

Recording 3

A conversation happening among a group of

people (up to 4 members) in an educational or training

Recording 4

A monologue on an academic subject
You can listen to these audios only once. They include a variety of accents, including British, New Zealand, American, Canadian and Australian. Test takers have to write their answers on the question paper as they listen, and it should be kept in mind that poor spelling and grammar will get penalised.
IELTS Exam Pattern (Listening)

4 parts with 10 questions each

Total number of questions

40 questions

Timing

30 minutes (Approximately) and 10 minutes transfer time

Marks

Each question carries 1 mark

Task types

Multiple choice, Matching, Summary/Table/Form completion,

Sentence completion, Plan/Map/Diagram labelling
IELTS Syllabus - IELTS Reading
The IELTS reading part is intended to evaluate a variety of reading abilities of the test taker. These include skimming, understanding logical arguments, reading for gist, reading for major ideas, reading for detail, reading for comprehension, and recognising writers' perspectives, attitudes, and purposes.
This section contains three lengthy texts ranging from factual to descriptive and analytical. These are taken from publications, including books, journals, periodicals, and newspapers. They have been chosen for a non-specialist audience yet are suitable for students starting university courses or looking to register for a profession. No additional time will be allotted to transfer the responses to an answer sheet.
IELTS Exam Pattern (Reading)

Three reading passages with a variety of questions

using various task kinds

Total number of questions

40 questions

Timing

60 minutes

Marks

Each question carries 1 mark

Task types

Multiple choice, Matching headings, Matching features,

Matching sentence endings, Sentence completion, Note completion,

Summary completion, Table completion,

Identifying writer's claims, Short answer questions
IELTS Syllabus - IELTS Writing
This section evaluates your capability to organise your thoughts into a coherent, unambiguous argument and using precise language while providing examples or supporting data. The writing style for this section should be objective, academic and semi-formal. The answers must be written completely and on the answer sheet. Your answers cannot include notes or bullet points. The two tasks in this section include:
IELTS Exam Pattern (Writing)

Description

IELTS Writing Task 1

A graph, table, chart, or diagram will be shown to you, and you will be

asked to describe, summarise, or explain the data in your own words.

You may also be asked to explain the data, describe a process' steps,

or describe an object or an event.

IELTS Writing Task 2

You'll be required to compose an essay responding to a claim,

counterargument, or issue. Both activities require responses

to be given formally.
The IELTS writing section is evaluated by 2 to 4 highly qualified examiners based on a specific assessment criterion. In this section, the examiners evaluate various criteria like coherence and cohesion, grammatical range and accuracy.
IELTS Exam Pattern (Writing)

Two compulsory writing tasks

Total number of questions

2

Timing

60 minutes

Task types

Describe visual information provided in 150 words

and document your response to a particular point of

view/argument/problem in 250 words
IELTS Syllabus - IELTS Speaking
The IELTS speaking section assesses your ability to communicate effectively in English. The test takers are evaluated on criteria such as fluency and coherence, lexical resource, grammatical range, accuracy and pronunciation. The three parts in this section include
IELTS Exam Pattern (Speaking)

Description

Timing

IELTS Speaking Part 1

You will have to answer general questions

about yourself and various familiar topics

like your family, home, studies, interests and such.

This part lasts for about four to five minutes

IELTS Speaking Part 2

You will be given a card with a topic and be

asked to talk about that. The examiner may also ask a

few questions on the same topic.

You will be given one minute to prepare

and have to talk for about 2 minutes

IETLS Speaking Part 3

You will be further questioned on the topic you

received in Part 2, which will give you a chance to discuss abstract ideas and issues.

This part lasts for about four to five minutes
Certified examiners will evaluate your IELTS speaking section. The IELTS speaking band score ranges from 0 to 9, and you will be scored based on your performance in all four criteria, as mentioned above. There is no negative marking for this section.
IELTS Exam Pattern (Speaking)

An oral interview between the examiner and test taker.

All parts of the speaking test are recorded.

Timing

11-14 minutes

Task types

The three parts cover specific functions like

interaction pattern, task input, and test takers output
Frequently Asked Questions
The test's difficulty level will depend on your command of the English language. If you are unprepared, you will indeed find it challenging to manage your time and finish answering all the questions. It is essential to grasp the IELTS exam pattern well and practice the various test sections to get your desired score.
It is possible to pass the IELTS exam without receiving professional coaching. You can crack the exam even if you practice all the sections consistently. However, it is advisable to have some guidance to clear any doubts you may have while solving any particular section.
It is recommended that students spend a minimum of 6-8 weeks studying and preparing for the IELTS exam. This includes improving basic grammar skills, reading speed, test strategies, and writing skills. Each part of the IELTS exam has different requirements, so understand what is expected of you before taking the test.