FIND YOUR NEXT STUDY EXPERIENCE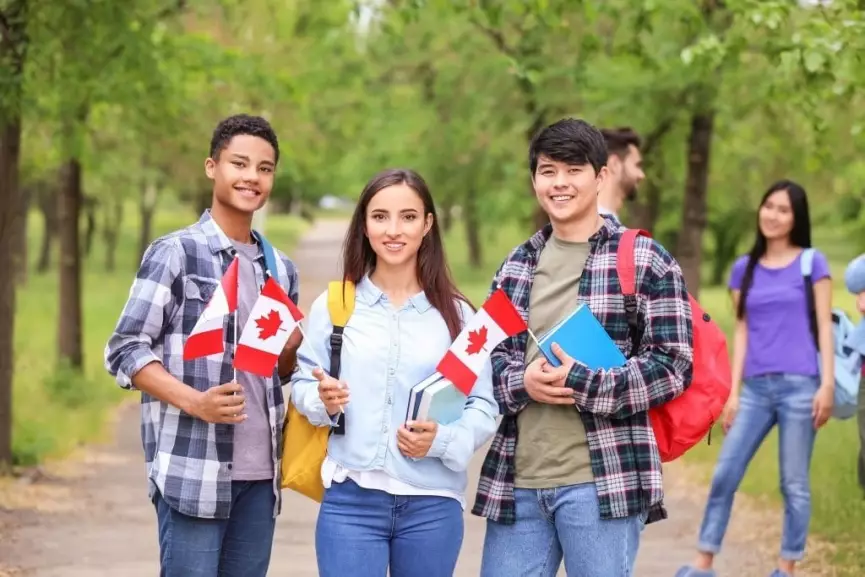 The country of Canada is not just famous for its mesmerizing natural beauty and its multicultural cities, but also for the brilliant educational institutions.
The Canadian universities are known for offering a wide range of courses with lesser tuition fees, making the cost of living in Canada for Filipino students affordable.
With a decent cost of living and numerous short-term courses, Canada is one of the desired study destinations for most international students. As per the survey by the Canadian Bureau for International Education in 2018, the 3 prominent reasons which attract a large number of students to study in Canada are its reputation as a safe country -78%, a Non-discriminatory society - 79%, and Quality education system- 82%.
We can totally vouch for that!
The basic cost of studying and living in Canada
International students across the world are generally concerned about the tuition fees, and not to forget, the additional costs that are to be incurred during the course tenure.

Living expenses, medical insurance, and accommodation cost must also be on your budget while planning to study abroad. Besides, it is important to focus keenly on applying for a student permit in Canada.
International students are expected to prove to the Canadian government that they have adequate money to match the financial needs to study and live in Canada.
The monthly (average) cost of living in Canada for international students is usually between CAD $600 and $800 for food and other daily expenses, excluding accommodation.
For instance, having breakfast or dinner at a restaurant can cost somewhere between CAD $10 and $15 per person. When it comes to the entertainment part, a cinema ticket on average costs CAD $12.25.
The cheapest cost of living in Canada as an international student is based on the city's popularity, lifestyle and expanse; the bigger the city, the bigger the cost of living. Like Ontario for instance, the living costs tend to be more expensive.
Cost of living in Canada - Accommodation cost in Canada
Most international students in Canada live on-campus in their first year where students are asked to share their rooms with a roommate while sharing the laundry room, kitchen and social area with other students.
The cost of living in Canada for on-campus accommodation ranges between CAD $3000 and $7500 per year and varies depending on the region you choose to study in.
The University of Toronto which houses over 20,000 international students, estimates the on-campus accommodation cost for an international student to be somewhere between CAD $1,080 and $2,982.
The University of Montreal costs CAD $550 per month for international students on-campus accommodation. In addition, the city of Montreal recently ranked 5th for best study destination for international students in the world.
Soon after the first year, where they get used to the country and its people, the international students in Canada usually opt for off-campus accommodation; sharing an apartment or house with their pals to save the accommodation cost.
The Rental price varies from city to city. larger cities like Vancouver, Toronto and Calgary are the most expensive to live in Canada. Hence, for off-campus accommodation, an international student must spend between CAD $750 and $2200 per month.
There are multiple options for international students to stay comfortably in Canada. From living with host families to the university residences to rental apartments, international students can pick a style of accommodation that best fits their lifestyle.
Cost of studying in Canada - Tuition Fees in Canada
Tuition fee on Canadian Universities is relatively lesser in comparison to most developed countries.
As per the data from the academic year 2018/2019, the average tuition fee for undergraduate students (international students) was just around CAD $28,000. Besides, international students in Canada are permitted to work up to 20 and 40 hours/week on study duration and holiday period, respectively.
2021-22 Average International Tuition Fees by Field of Study in Canada
Source - Statistics Canada
| | | |
| --- | --- | --- |
| Field of study | Undergraduate (CA$) | Graduate (CA$) |
| Visual and Performing Arts, and Communications Technologies | $25,127 | $14,737 |
| Humanities | $28,676 | $13,667 |
| Social and Behavioural Sciences | $27,647 | $15,032 |
| Law, Legal Professions and Studies | $33,192 | $17,237 |
| Business Management and Public Administration | $26,680 | $24,693 |
| Physical and Life Sciences and Technologies | $31,536 | $15,421 |
| Mathematics, Computer and Information Sciences | $33,012 | $16,647 |
| Engineering | $33,703 | $19,301 |
| Architecture | $26,457 | $23,992 |
| Agriculture, Natural Resources and Conservation | $26,208 | $14,452 |
| Dentistry | $56,621 | $22,472 |
| Nursing | $21,922 | $16,168 |
| Pharmacy | $40,960 | $12,876 |
| Veterinary Medicine | $63,323 | $10,099 |
Cost of living in Canada - Public Transportation Costs in Canada
While students residing closer to their educational institution prefer to commute by walk, those staying farther away from the cities such as Vancouver, Montreal or Toronto, prefer commuting via either Metro or Bus.
The monthly train passes range between CAD $80 and $110, but students with valid identification cards could get a discount on the train pass.
Cost of living in Canada - Health Insurance Costs in Canada
All international students, regardless of which country they study in, are required to possess a health insurance cover. Medical coverage for international students in Canada varies from one city to another.
The two significant divisions of medical health cover in Canada are Provincial Health Care & Private Health Insurance.
The provincial medical health care system comprises essential preventive and emergency services. All international students studying in Canada with a study visa, are eligible for availing this provincial health care card to access the services when required.
International students can also opt for private health insurance which has many more advantages than provincial health care. The services included in the Private health insurance are private hospital rooms, ambulance services, dental costs, and prescription drugs.
The average amount of private health insurance in Canada ranges between CAD $600 and $1000.
---