Study in USA - A Comprehensive Guide for International Students
Need Advice Studying Abroad?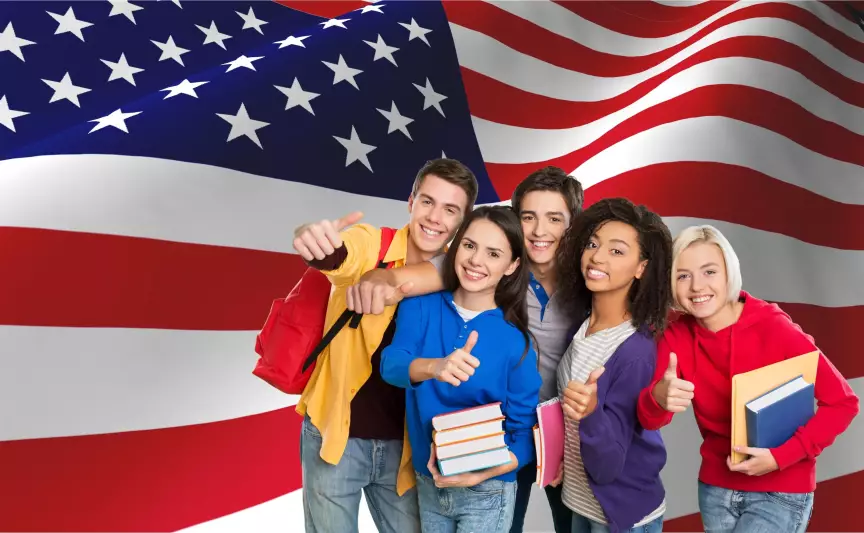 Study in USA - A Comprehensive Guide
1) Introduction to Studying in USA
Studying in abroad is an exciting prospect for many students. It can be a tedious process right from selecting universities in USA, applying for visas, looking for accommodations, and finally getting there to study in USA. And, if the destination is one of the popular ones, then the competition becomes tougher. But, what if you finally reap the benefits and live your dream.
Well, read on to know about one such destination, The United States of America. It has been a world-class study destination for years to come.
This guide will provide you with comprehensive insight into all that you need to know to study in USA. Accommodation, expenses, transportation, and some interesting trivia about popular cities and colleges have been covered here and we hope you find it helpful in order to study in USA.
2) Culture and lifestyle in The USA
You must already have some idea about American culture if you are a fan of popular shows like Friends and How I Met Your Mother or famous works of literature like Little Women and The Great Gatsby. In fact, American English has gained such a stronghold that it is now the world's standard version of the language.
While American books and entertainment are well-known around the world, the country's food is something you cannot miss. The United States is a foodie's dream, with everything from fusion cuisine in New Mexico to soul food in Louisiana, indigenous food in Alaska, pizzerias in New York, and the world of cheese created in Wisconsin, making it one of the ideal reasons to study in USA.
The diverse culture and language may be one of the many reasons to study in USA. Apart from the food, the United States provides an excellent opportunity to practice not just the world's lingua franca but also one more important language: Spanish. In the United States, Spanish is widely spoken. It becomes more common as you travel further south.
3) The USA as a study destination
Over the years, the USA has been the holy grail of higher education. With its alluring educational environment and extraordinary part-time jobs in USA, the nation has huge popularity among all international students, and they prefer to study in USA. Reportedly, the United States of America has the world's largest population of international students. International students in the USA account for about 5% of the overall student population in the country, making it one of the ideal facts to study in USA.
Being a culturally inclusive and vibrant country, it accommodates students from various countries to provide them with a warm learning environment to study in USA. Universities in the USA ensure that students gain a smooth academic experience and become desirable candidates for employers eventually.
The

American education system

is best known for its quality of education. Its universities offer first-class degree programmes and a student-friendly environment

to study in USA

.

Almost half of the globally recognized universities are located in the US. They are accredited and have good ratings. This makes it a good choice for

international students to study in USA

.

Graduates from American universities are offered an extensive range of employment opportunities and impressive pay structures.

The US universities have a range of courses that help students build a promising career

after they study in USA

.

Internships are also offered by many

universities in USA

to help students acquire practical experience in their field of choice. This makes the

international students prefer it as a primary choice to study in USA.
4) The education system in USA
Universities in the US provides quality education for international students to study in USA and is basically categorized into Public and Private universities. They are either funded by the state government or privately by individuals and corporations.
Furthermore, these universities are categorized into:
IVY League

Public Ivies

Liberal arts philosophy

Specialist institutions

Land grant colleges and universities

Research intensive institutions
5) Intakes to study in USA
| | |
| --- | --- |
| Intakes to study in USA | Student Application Deadline in USA |
| January Intakes to study in USA | August |
| May Intakes to study in USA | March |
| September Intakes to study in USA | December |
6) Levels of study available to study in USA
| | |
| --- | --- |
| List of degree level | Programme duration |
| Associate degree | 2 years |
| Bachelor's degree | 2-4 years |
| Master's degree (Professional) | 1-3 years |
| Master's degree (Academic) | 2 years |
| Doctorate (or) Ph.D., | 5-8 years |
7) Top bachelor's courses to study in USA
The Universities in the US provide a four-year undergraduate programme and a two-year undergraduate programme to study in USA. The two-year programme is usually divided into two segments, such as an A.A. degree (or Associate of Arts degree), and an A.S. degree (Associate of Science degree). This two-year degree programme prepares you for a 4-year program in college or university in USA.
Engineering & Computer science

Business

Psychology

Communication & Journalism

Biomedical Sciences

Social science & Humanities
8) University application process in the USA
The application process for admission in the USA requires a significant amount of effort, particularly for Ivy-league colleges that conduct competitive admissions to study in USA. Currently, the USA doesn't have a set application system. International students looking to study in USA can apply directly through the links on the respective university website.
Once you have decided to study in USA, setting a routine to explore universities, programs and cities is the best way to get started. You must make a careful note of the university's application deadlines, which may be up to 10 months prior to the start of the academic year to study in USA.
List of required documents for the application process to study in USA:
Passport copy

Resume

High school mark sheets or certificates (when applying for Undergraduate courses)

3 Letters of Recommendation

Entrance Exam Scorecards (SAT/ ACT/GRE/GMAT/MCAT/LSAT)

English Language Proficiency Test Scores (IELTS / TOEFL / PTE / C1 Advanced)

Statement of Purpose

Achievements certificates (if any)

Application confirmation copy

Proof of Funds
9) Admission tests to study bachelor's degree in the USA
To gain admission into a program, most universities require students to take one or more graded admissions tests such as the GRE, GMAT, MCAT, LSAT to study in USA. Most universities and colleges will require undergraduate and graduate applicants to take one or more of the standardised admission test, and English proficiency test in order to study in USA, as mentioned below.
International English Language Testing System (IELTS)

Test of English as a Foreign Language (TOEFL)

Pearson Test of English Academic (PTE)

Law School Admission Testing Program (LSAT)

Scholastic Assessment Test (SAT) for Undergraduate Students

Medical College Admission Test (MCAT) for Undergraduate Students
10) Pathway programmes to study in USA
The Pathway programmes or bridge courses are basically the preparatory programmes that smoothly lead international students in USA into a bachelor's or master's degree program in US universities. These programmes are designed in a way that allows international students in USA to take a year to try different study courses, which will eventually give you a better understanding of your own interests and skills to choose a course when you enter college or university to study in USA.
These programmes offer the opportunity to work on your language skills by taking English as a second language (ESL) courses to study in USA, which can be added as credits when you pursue a degree after that. The chances of you getting accepted by the affiliated universities in USA after taking this one-year programme are high. This also helps in developing your academic profile which will eventually benefit your main field of a subject while you study in USA.
11 ) Health Insurance in the USA
Healthcare is a significant expenditure for international students while they study in USA. Unlike other countries such as the United Kingdom and Germany, the United States does not offer a national health care system. The entire healthcare system is privately owned and operated on a free-market basis.
Health insurance in USA is a must for international students. Policies can be tricky, so International students in the US need to take a close look at what their policies cover and what they do not. If you have any pre-existing conditions before you go to study in USA, those must be disclosed as well. Do not forget to check if any plans have an extra co-pay. For international students in the USA, it is best to purchase health insurance before arriving in the United States.
Some universities in US provide their own health insurance policies and programmes that cover medical, counseling, prescription, vision, and dental services, etc. The average cost will be around $1,800 and $2,900 per semester for undergraduate and graduate students respectively.
12) Student visa application process to study in USA
The type of USA student visa you will require is determined by your age and what you want to do in the United States. Here is a rundown of the three categories of USA student visas and the conditions associated with them.
F-1 visa

: The most common visa type for international students seeking to undertake academic studies.

M-1 visa

: This visa is for students who choose to study vocational courses.

J-1 visa

: This visa is applied when international students participate in an exchange program.
As an initial step, international students looking to study in USA must apply to a US college or university recognized by the Student Exchange Visitor Program (SEVP). After paying the SEVIS fee, a Form I-20 will be sent from the respective institute's international student office after acceptance. To obtain a USA student visa, the form issued by the admitting university is required to be presented at the US embassy during the visa interview. The same paperwork must also be presented by students at a port of entry in the USA during arrival.
Note: Your AECC counsellor can be consulted to customize a visa file for you.
13) USA Visa documentation checklist
In order to apply for USA student visas, one need's the following documents to study in USA:
A passport valid for 6 months from the date of entry into the United States.

Recent passport size photograph with a white background (50mm x 50mm)

DS-160 confirmation page with barcode

USA

Visa application fee receipts

SEVIS receipt and I-20

Financials

Sponsor Details and Related Documents
14) Cost of studying and living in the USA
The estimated average cost of living

for international students while they study in USA

is around $30000 to $360,000 per year, and this might vary from student to student, among other factors.

An

international student in USA

would need around $1000 to $3000 per month to manage the expenses including your accommodation costs, room, and board, food, travel, textbooks, weather-appropriate clothing, and entertainment expenses as well.

The average annual cost of tuition fees in US universities vary from course to course.

The estimated tuition fee for Arts and Engineering courses will be around $15,000 to $55,000, whereas, for Medical and Law courses, the estimated tuition fee per year will be around $25,000 to $68000.
15) Scholarships to study in USA
Pursuing higher education in the United States of America is a little expensive. But the country is also ready to provide scholarships for international students making it affordable to study in USA. These scholarships are aimed at reducing the course fee by a considerable amount and helping you fund your studies in USA. Beginning with just 26,000 international students in USA in the 1949-50 academic year, the number of students looking to study in USA neared 1.1 million in 2019-20. The open door data also highlights the competitiveness of the USA's higher education sector as a destination of choice for international students.
#YouAreWelcomeHere Scholarship

Eligibility depends on the institution the student is enrolled into.

50% tuition fees waivers are offered to students commencing

undergraduate studies in USA

.

American University Emerging Global Leader Scholarship

Exclusively applicable to one

international student in USA

pursuing an undergraduate degree.

The funding amount varies.

The Next Gen Scholarship

Provided to students who pursue

undergraduate degrees in USA

.

The amount of $1,000 will be awarded each Fall.
16) Career opportunities after a Bachelor's degree in the USA
The United States of America drives millions of international individuals every year and Immigrant workers alone make up around 13% of the total US population. Employers in the US have added an average of 555,000 jobs a month post-pandemic, improving 82% of jobs lost early in the pandemic.
| | |
| --- | --- |
| Courses | Average salary per year |
| Engineering & Computer science | $98,638 to $180,000 |
| Business | $44,530 to $101,034 |
| Psychology | $60,000 to $120,000 |
| Communication & Journalism | $47,000 to $85,000 |
| Biomedical Sciences | $54,519 to $73,945 |
| Social science & Humanities | $24,500 to $75,000 |
Note : The above-mentioned annual salary is estimated approximately for your reference and they are not intended to guarantee that all graduates will achieve similar results.
17) Part-time work opportunities in USA
The US student visa allows international students in USA to work up to 20 hours per week on campus when school is in session and up to 40 hours per week during school break periods. You are expected to apply and receive a Social Security Number (SSN) from a designated school official (DSO) 30 days prior to the commencement of your classes while you study in USA.
Working while studying in USA is the best way to begin networking as 70% of jobs are filled through such references.
Attending education fairs and doing CPT (Curricular Practical Training) internships is another great way to get recruited by top employers in USA. The Curricular Practical Training (CPT) is a form of temporary employment authorization for F-1 visa holders, which allows international students in USA to do internships while pursuing a degree program.
18) Post-study work rights in the USA
As an international student in USA, you get to stay in the US for one year after completing your course on an F1 visa. F-1 student visa holders during the study program at either undergraduate or graduate level are eligible for CPT (Curricular practical training), which has to be completed before graduating in USA. Working in the USA after graduation is also possible through Optional practical training that temporarily allows you to work up to 12 months, given that the job is directly related to your primary area of study. Also, STEM OPT extension is a 24-month training programme offered to STEM graduates in USA.
Students who get OPT are expected to find a job within 90 days after graduation in USA and it is essential to request post-completion OPT or submit form I-765 ninety days before your program end date. Before that, the Designated School Official (DSO) you are enrolled in must enter a request to opt into the Student And Exchange Visitor Information System (SEVIS).
19) Popular cities to study in USA
a) Boston
Boston comes under one of the

top student cities to study in USA

for international students because of the considerable number of students who stay here.

The city has been ranked #9 in the QS Best Student Cities ranking report,2022.

Boston, America's walkable city, is known for its compact nature and it has the seventh-highest percentage of pedestrian commuters.

Boston is ranked by employers as the 2nd best city in the world for recruiting university graduates (QS report).

The

Boston

was once known as the 'Athens of America' and it is home to over 25,000 international students.
b) Chicago
If Boston is the academic capital of the United States, Chicago is the country's economic capital.

Chicago is also known as The Windy City.

The city has been ranked #41 in the QS Best Student Cities ranking report,2022.

Students would be able to immerse themselves in a broad culture, a diverse spectrum of entertainment, and magnificent architecture by studying in Chicago.

Although being one of the wealthiest cities in the United States, Chicago has a lower cost of living than other US cities.
c) San Francisco
San Francisco or SFO as popularly known is one of the most visited cities in the United States.

San Francisco is home to a plethora of technology research firms, as well as the headquarters of Google and Facebook.

The city has been ranked #24 in the QS Best Student Cities ranking report, 2022.

It is the 14th most populous city in the USA and it is known as the financial and cultural center of Northern California.

Students hang around at Baker Beach for some sunbathing and picnicking while watching the Golden Gate Bridge.
d) New York
New York City is America's commercial, financial, and economic hub making it a favoured study abroad destination.

New York's public transport system is student-friendly,

and the city has a subway system that can make it easy to move around the city.

The city has been ranked #16 in the QS Best Student Cities ranking report, 2022.

Being one of the diversely populated cities in USA, New York is home to over people from 110 countries.

New York houses over 500 reputed companies and more than 100 public libraries.
e) Los Angeles
Los- Angeles is the ideal city to live in if you enjoy art, entertainment, and movies.

After New York, Los Angeles is the second-largest metropolitan city in the United States.

The bright and sunny atmosphere of Los Angeles attracts students and employees from more than 140 different nations.

More than 230 colleges and universities can be found in and around Los Angeles.

The city has been ranked #31 in the QS Best Student Cities ranking report,2022.
f) Washington D.C
Washington, DC is considered to be one of the top cities for international students in the USA.

With political representations such as the white house, the Supreme Court, and Lincoln Memorial, Washington DC is known as the heart of the USA.

This city is a hub of global politics and business as the headquarters of the World Bank, and the International Monetary Fund are in Washington.

This city has the second busiest metro subway system.

The city also houses more than 175 embassies and international cultural centers.
20) Destination highlights
The Statue of Liberty was a gift from France in 1884 and dedicated in 1886.

Harvard was the first university in the U.S. and was founded in 1636.

Atlanta's International Airport is the busiest airport in the world.

The first Friday of June is National Doughnut Day in the U.S.

Honolulu is the only place in the United States that has a royal palace.

Alaska is the state with the highest percentage of people who walk to work.

The U.S. consumes more petroleum than any other country in the world.

The most popular team sports in the U.S. are American football, baseball, basketball, and ice hockey.

Though most Americans speak English, there is no official national language.

The longest stone arch bridge in the world is the Rockville Bridge in Marysville, Pennsylvania.