FIND YOUR NEXT STUDY EXPERIENCE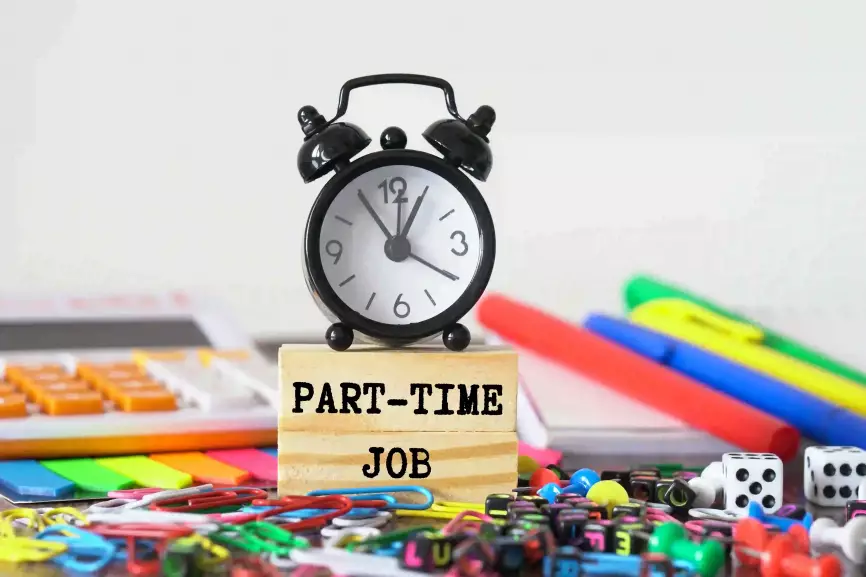 A part-time job in USA is vital for international students to study and live seamlessly. There are several methods to make additional money in the USA for students from all around the world. Part-time employment provides you with a comprehensive understanding of student culture, USA work regulations and living. According to the American student visa requirements, you are only permitted to work 20 hours a week and only on campus. When courses are in session, students can work up to 20 hours per week and up to 40 hours per week when classes are not in session. You may already know what you want to do, but if not, we've compiled a list of some of the most frequent and easily accessible part-time jobs for international students.
Important Points to be considered for part-time jobs in USA:-
• A student can work on-campus in their first year of studies
• A valid F-1 visa permits a student to work for only 20 hours per week
• However, in the case of holidays, summer sessions, and vacations a student can work full time which is 40 hours per week
• Students are not allowed to work off-campus in their first academic year
• The U.S. Citizenship & Immigration Services (USCIS) allows working off-campus only for those workplaces that are affiliated with the schools
Types of Part-Time Jobs in USA
When studying abroad, you may discover that working part-time might help you pay a few additional expenses or support leisure activities and travel that would otherwise be out of your budget. There are two types of part-time jobs in the USA for international students. They are:
On-Campus part-time Jobs in USA
Off-Campus part-time Jobs in USA
On-campus jobs:-
1. Research study assistant - part-time Jobs in USA:- Generally, research assistants are needed in scientific laboratories. They scan the internet and other similar sources for information, statistics, surveys, and other published research to aid their instructors in their research. Research assistants are often required by novelists and newspaper reporters in order to detect and uncover fresh facts.
2. Teaching assistants - part-time Jobs in USA:- This is the perfect part-time job for you if you want to be around your academics outside of school or college hours. Because this position is not freely available, you must ask your professor to assist him in teaching.
3. Catering assistants and Food runners - part-time Jobs in USA:- Catering assistants may work as servers in restaurants, in cafeterias, or as front-office personnel. Such eateries or cafés can be found on or near a student's school campus. If the restaurants and cafeterias have reached an agreement with the school or college, the student may be allowed to work at one of these establishments.
4. Library page - part-time Jobs in USA:- A library page's duties include primarily sitting at the desk, keeping track of what books are in and out, assisting students in finding books, and performing other library tasks. It is the most tranquil employment on campus, where you may also pursue your own studies.
5. University Campus Tour Guide - part-time Jobs in USA:- Universities in the United States feature sprawling campuses with historic architecture and dispersed departmental buildings. You can apply for this position if you are familiar with the university campus and have a warm and outgoing personality. You can inquire directly with the admissions department of the school or institution about available positions.
6. Department Assistant - part-time Jobs in USA:- Working as a department assistant is an excellent way to establish positive relationships with academics. You will be assigned to a certain department and will mostly be responsible for clerical tasks, papers, and files. To find out about open positions, you should contact the department's leader.
7. Computer lab technician - part-time Jobs in USA:- This position requires an experienced student with an understanding of computer hardware and software. Essentially, the role entails providing technical assistance and customer care to lab users. This position necessitates basic problem-solving abilities as well as analytical communication skills. The executive in charge of the computer department will walk you through the application procedure for this position.
8.
Babysitters - part-time Jobs in USA:-
If you are excellent with children and can manage them with care, this is a profession where you may earn a lot of money. Administration, teachers, and other school personnel are frequently seeking babysitters so they may work without sacrificing their working hours.
Off-campus jobs:-
Call centers:- This is a fantastic chance for anyone who is outgoing and wants to enhance their communication abilities. Although this is a well-paying profession, the needed communication and language abilities are above average. Customer service centers often provide the option of working from home. Call center job openings may be found on websites such as Simply Hired, college grad, and others.
Store associates:- A store associate's role is to assist customers and supply them with the necessary product information. Depending on where you live, you can work in neighbouring Walmarts, food shops, and so on.
Language interpreters and translators:- The United States conducts extensive commercial trade with nations such as Spain, Japan, Korea, India, and China. As a result, language translators are required to deal with these foreign clients. Translators are also needed in hospitals, courts, and schools, so students may apply according to their level and interests.
Tourist Guide:- Depending on your school/college location, you can work as a part-timer at an amusement park or a resort. You can pick from several shifts based on your school hours and get paid hourly.
However, for the above off-campus employment, a student must obtain authorization from a designated school official (DSO).
In the United States, the average hourly wage for part-time work is about $13. Aside from these positions, you can always monitor social media platforms such as LinkedIn for network and job updates. Newspapers and neighbourhood websites may also be useful in locating local employment openings. In addition, it is critical to observe work regulations and maintain discipline in order to prevent violating labour laws.
Online Part-Time Jobs in USA for International Students
The desire to be financially independent is very essential for an international student. Online part-time employment not only helps students build new networks but also gives an additional source of cash. You may choose the type of work that best suits you from a variety of online part-time occupations that require no or minimal investments. It may also assist in evaluating whether you can make it a full-time profession in the future. Working from home jobs allows you to develop your CV while you sit at home.
Job searching has grown easier and more efficient in this fast-paced world, thanks to technological advancements. This might even help you locate the best career for you. Work from home jobs increases productivity and sharpens your skills. Because online employment provides flexible work hours, the burden and stress are nearly non-existent. All you need to do is set aside a specific number of hours in your day to finish the work at hand. This will not only help you make better use of your time, but it will also allow you to earn some additional money. Aside from that, you will have the opportunity to have a deeper understanding of the business.
As a result, the following is a list of online part-time employment for college students working from home. Try to grasp every element of the jobs listed below and apply for the one that you believe is the best fit for you. To avoid fraud, it is best to conduct a background check on the company before applying for a job.
Therefore, here are 11 part-time home-based jobs for International students that you can start today.
Content Writer
Graphic Designer
Data entry agent
HR recruiter
Online tutor
Social media management
Translator
Web developer
Business development manager
Video editor
How to Find Part-Time Jobs in USA?
Finding a part-time job in the United States might be difficult, especially if you are an overseas student with no professional network. Here are some sites to seek for part-time work in the United States:
Typical university offices/ Student Union/ Career Services: Most of the time, here is where you'll discover assistance and possibilities. International students may also benefit from specialised career services at US institutions, which may provide not just training but also internship and part-time on-campus possibilities.
Online portals: If you are unable to locate work offline, one of the most efficient ways to find part-time work is through online job boards such as LinkedIn, Glassdoor, and others.
Part-Time Jobs in USA for International Students - Salary
| | |
| --- | --- |
| Job Roles | Salary |
| Campus ambassador | $10.94 per hour |
| Barista | $11.59 per hour |
| Teaching assistant | $11.85 per hour |
| Library assistant | $13.24 per hour |
| Receptionist | $13.31 per hour |
| Research study assistant | $15.48 |
| Department assistant | $16.44 |
| Food runner or catering assistant | $16.81 per hour |
| Sales assistant | $20.00 per hour |
| Tutor or peer mentor | $21.31 per hour |
If you've been considering working while studying abroad, you're not alone; many foreign students look for jobs throughout their education. When looking for a job, it is necessary to consider various factors, such as the regulations in your place of study and if there is a restriction to the number of hours you may work based on your visa type, if applicable. When it comes to employment opportunities for overseas students, different nations have varied rules, so it's necessary to examine them before applying for positions.
Another factor to consider is your academics and lifestyle - a job should have little influence on your schooling. We hope that this blog has helped you understand all of the vocations that are accessible to you while studying in the United States.