FIND YOUR NEXT STUDY EXPERIENCE
If you're considering a study abroad stint, these expert tips will help you choose the right study destination!
02 February 2021 by AECC Global
see all articles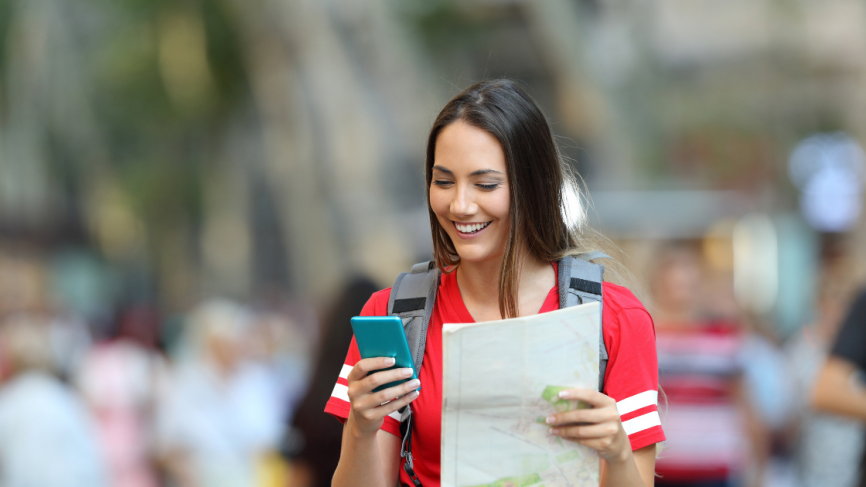 Studying abroad is an exciting idea and opens up a whole new world of possibilities. It exposes you to a new lifestyle, different cultures and people from different socio-economic backgrounds. While it could turn out to be a totally life-changing experience during the duration of your course, it also enhances your chances of global employability post your graduation period, and gradually allows you to develop professional skills and offers the unique chance to travel all over the country. Over time, you become more of an independent individual and adapt to new ways of living.
As an international student, you become more open-minded and accommodative of people and situations and become a better human being. But, there's a catch. Choosing to study abroad and deciding which country you should be studying at, could be challenging, as it is one of the major decisions of your life. It demands financial commitment, time and effort. Hence, it requires you to factor in every parameter and make the best decisions at every stage of this journey.
This process could seem overwhelming in the beginning, but with the right guidance, studying abroad could become as easy as studying at an institution in your home country. In order to help you with your plans, here are some expert tips that would make your study abroad journey easy and worthy of your investment.
Course selection
Gaining clarity on a course you would like to study is the first step in choosing the right study destination. If you are unsure of what to study, there are ways to figure it out. Logically, the course selection process should stem from your passion.
Ask yourself what you want to become, figure out what you have always enjoyed doing, and write down your interests & strengths. Answers to these questions should indicate the areas in which you could excel in. The next step is to do a thorough research of institutions that offer courses that are in alignment with your passion. You could also take help from educational consultants to find out the most futuristic courses in your field of interest and the best places to study them.
Career prospects
A vast majority of students prefer to study abroad, work and live there permanently post their graduation. Hence, employment opportunities after studies come in as a high impact factor in making the decision to study abroad.
No matter where you want to be after studies, it is imperative to research the employment opportunities for your favourite course. Study the country's economy, job market trends, employment predictions made by government agencies and other reliable sources from the country. In situations, when you have shortlisted a few interesting courses and not sure which one to go for, this research could help you make the most practical decision.
For instance, if civil engineering is your interest, New Zealand is one of the best destinations for you. As per the latest QS World University Rankings, New Zealand has over the years achieved recognition for delivering high-quality engineering education to international students. In a similar vein, Ireland and the United Kingdom are great for students desiring to work in the healthcare and pharmaceutical industries. Australia is the country to be in if you are seeking research opportunities, given the myriad of institutions globally renowned for research quality. And, if you plan on doing a master's in computer science, the United States will provide you with endless avenues! The bottom line is to study your favourite course in a country that promises a bright future.
Course structure and duration
Take any course, and you will find it being delivered differently in different countries. It varies from one institution to another in the same country, as each institution has its own learning outcomes for that particular course. Whether your goal is to do higher studies and research, or you simply want to work after studies, it's good to choose an institution that prepares you to achieve your goals. The proportion of practical training to theoretical understanding and the course duration could vary. Additionally, the mode of delivery may also be different. Hence, you should be aware of all these factors while making a choice. If you plan on working while studying, check if your institution offers you flexible solutions, so you can balance between studies and work.
Affordability
Affordability is probably the most important factor to consider while choosing a study destination. Apart from the course fee, your accommodation costs, food, commute, study materials, internet and lifestyle costs could make a huge sum altogether. You will need to count them all and make a near-perfect estimate of the total study cost.
Once you arrive at that number, invest your time and effort in finding the most accurate information about scholarships, bursaries, and other grants offered to students in that particular destination. This financial assistance helps bring down your education expenses considerably and make your stay less stressful financially.
Also, check if the government policies allow you to work part-time while studying. If they do, not only will it help you manage your daily expenses but also let you gain good work experience.
Visa Policies
Visa policies of your study destination can technically shape your future in the country. Visa policies are generally framed in-line with the economic conditions of the country. If the country finds a shortage of skills in certain industries, they relax policies in favour of foreign students and immigrants to study and work in the country. When the situation reverses, the policies would be tightened to restrict immigrant entry. Therefore, do keep an eye on the country you are interested in and its current visa entry requirements. Also, find out how their policies could change in the near future so that you can have a good career span in the country.
Culture and lifestyle
The lifestyle abroad can be entirely or partially different from your current one. Research every aspect of the country's culture such as language, culture, food, lifestyle etc., so that you go well prepared to quickly adapt and settle. Education abroad is more than obtaining a quality degree. Hence, you should balance out and make time to travel, explore, learn new things, make friends, and immerse in cherishable experiences.
Language skills
Each country has its own language level expectations from prospective foreign students. Hence possessing the language skills to both study and live in your new country comfortably is of utmost importance.
Most of the universities abroad deliver the course content in English. However, a few institutions have specific requirements; for instance, institutions in Switzerland will only consider students who speak at least one native language of that country to study at a postgraduate level. Know the institution's expectations, improve your skills to match those expectations and try to learn local languages after moving to the country to enjoy everything that the country has to offer.
It's time to get ahead and get started!
Studying abroad is overall an enriching experience. Talk to any individual who has embarked on a journey to study abroad, and they will tell you the significance and impact it has had on their lives. It is a known fact that one who moves abroad to pursue their higher education benefits from it immensely, as there is an abundance of exposure and opportunities for students.
Now, we're pretty sure you're all prepped up to get started! If you look into all the tips mentioned above, you're sure to make the right decision. If you are unsure which destination suits your needs best, take professional help from an educational consultant of your choice! Now is the time to plan ahead and say 'au revoir' to your life back home and hop onto a brand new journey!